SPRING is the time of new growth & moving forward!
TUESDAY SPRING CLASSES BEGIN MARCH 31, 2020
REGISTRATION IS NOW OPEN 
See the Links Below for the 1:00 or 2:30 classes
Practicing Qigong together in the beautiful Earth Room enhances our Qi!
Maxine Forster Guenther, M.A. is a Certified Instructor of Integral Qigong.  She has been teaching Qigong since 2002.
Maxine is certified through IIQTC, The Institute of Integral Qigong & Tai Chi.  She also holds a Master's Degree in Human Development and Behavior.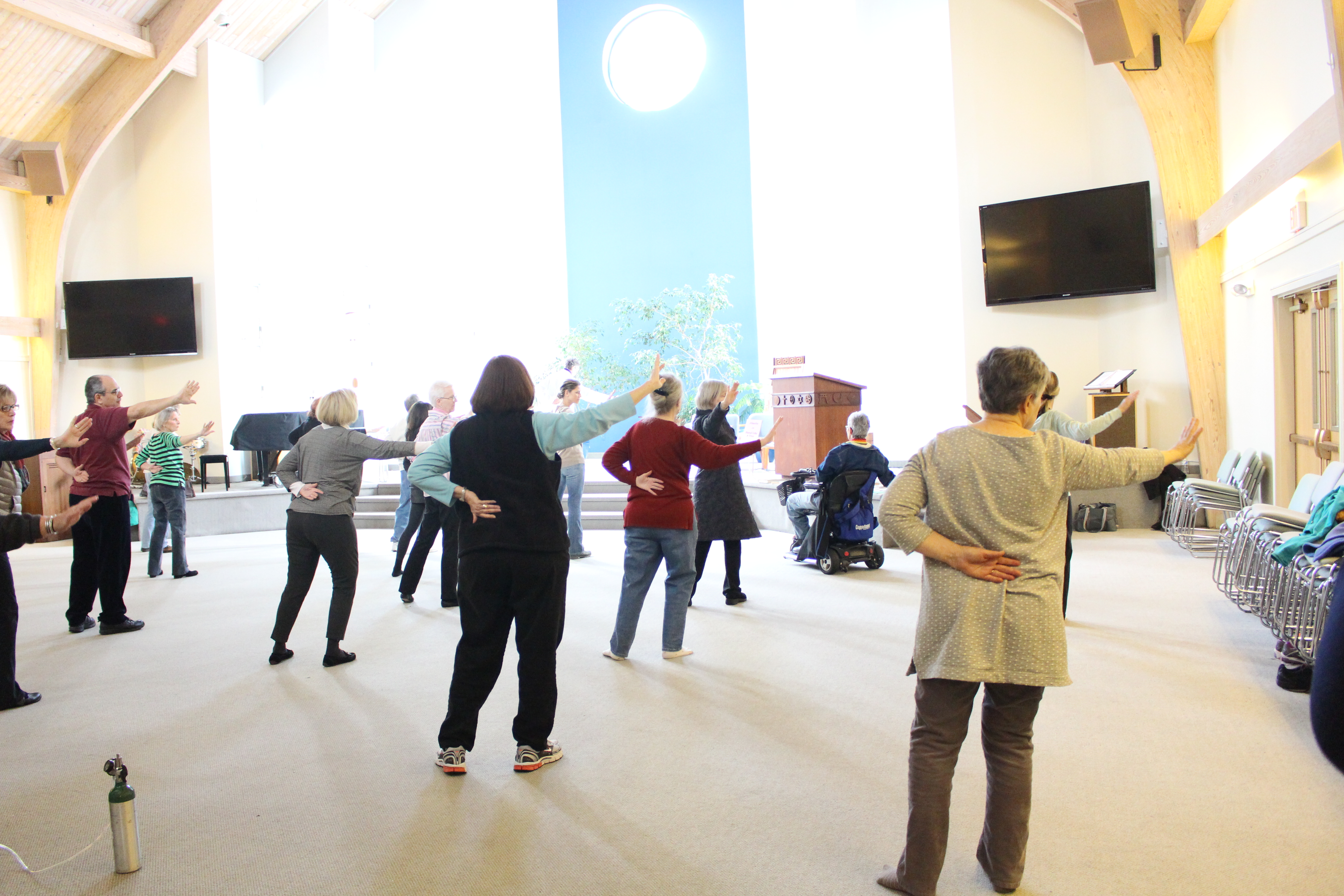 TWO LINCROFT CLASS TIMES:
The 9-week SPRING Series begins Tuesday, March 31, 2020




Choose either the 1:00 or 2:30 class.

 
For more details about the SPRING SERIES, the 1:00 &

2:30 Classes, watch this space. Classes are open to new and returning students.
2:30   CLICK TO REGISTER for 2:30 class 
A few of my favorite excellent resources include:
The Healer Within

and

The Healing Promise of Qi

by Dr. Roger Jahnke, OMD;

The Way of Energy

  by Master Lam Kam Chuen;

Practicing the Tao Te Ching, 81 Steps on the Way

  by Solala Towler; The Tao of Joy Every Day by Derek Lin; The Way of Qigong by Ken Cohen; Embrace Tiger, Return to the Mountain by Chungliang Al Huang; The Tao Te Ching, many versions.
Place: The Earth Room at the Unitarian Universalist Meeting House
        1475 West Front Street, Lincroft
Cost:  $90. for 9 sessions.
For a partner in the same household, the 2nd person's fee is $45.
Cost for college students is $45.00
If you cannot afford the fee for the series, please e-mail me; we can make some adjustment in the cost.
New to Qigong?  
Try the 1:00 class, then decide if you wish to sign up for either class.  On the first day, March 31st, there is an Introduction to Qigong for Good Health at 12:20.  No extra charge.
If you do not want to continue, that one class is $15.00.  Otherwise, the cost for the series is as above.
*** Reserve your space; CLICK TO REGISTER above***
For more information, e-mail Maxine at ~

qigongomi@yahoo.com 
You may pay at the first class  or  send a check to 
Maxine Forster Guenther
P.O. BOX 511, OCEANPORT, NJ 07757  

(note new P.O. Box address)



Deepen your Qigong practice or join us as a beginner.
ALL are welcome!                            Please note new e-mail address:   qigongomi@yahoo.com
***********************************************************************
THURSDAY EVENING CLASSES ... MARCH, APRIL, MAY, JUNE

Each month, a different Qigong teacher will offer EVENING CLASSES.  Limited to 20-25 students.  These are separate from the Spring Series of Qigong for Good Health.  A group of six teachers have collaborated to provide these evening classes.   See the flyer for information about registering for Evening Classes.  

NO registration on this site. Information is on the flyer.

The word is out! Qigong practice can help reduce stress, build stamina, increase vitality and positively impact your immune system. The benefits are profound.   Join us and discover these ancient Chinese healthcare exercises (slow, gentle movements) that integrate physical postures, breathing techniques and focused intention. Qi is the vital life force energy in ALL things. The practice is easy to learn and welcomes students with all levels of ability.  

***********************************************************************

THE CANCER SUPPORT COMMUNITY
Qigong classes are held here every Thursday,

from 11:00 to 12:00

.  For anyone with cancer or caretakers of loved ones with cancer, all programs are free.  The Cancer Support Community is located at Monmouth Medical Center, Long Branch.   TO REGISTER, please contact Joan Hogan, Program Director.   See the information below. Come whenever you can.  Be sure to register.  Parking is easily available.
Program Director
Cancer Support Community @ Monmouth Medical Center