⛄7 WEEK WINTER SERIES BEGINS TUESDAY, Jan. 16 2024⛄
TWO 1 hour classes in The Earth Room at UUCMC in Lincroft:
1:00 - The Phases of Cultivation with focus on the organs & more.
2:30 - The Phases of Cultivation with focus on the organs & more.
For more information, click on "Classes"
"Parking Lot Qigong" happens late spring, summer, and early fall on Saturday mornings 10:30-11:30, weather permitting, in the back lot of UUCMC, 1475 West Front Street, Lincroft.  The area is surrounded by amazing tree & sky Qi!   Each week, an e-mail reminder is sent to those on the "Parking Lot Qigong" e-mail list to say if the class will be held or not.  If you would like to join us, e-mail Maxine at qigongomi@yahoo.com.  Ask to be added to the PLQ list.  This is a drop in class by donation.  Join us whenever you can.  Open to all!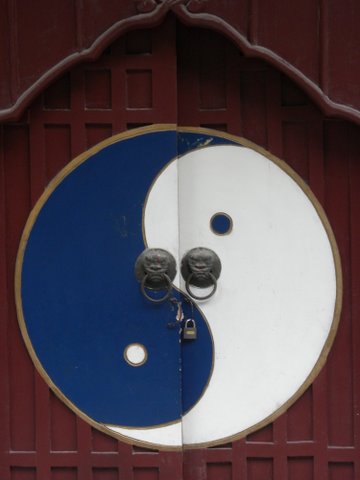 "Qigong asks us to lighten our grip on how we perceive the world and how we approach our lives. To get into the Qi enhancement state means that you will relax when formerly you have become tense. You will be electing to breathe deeply when you formerly have held or constrained your breath. The Qi, mysterious and invisible, is ever-present though not obvious. Qi creates a whole new view of life."
..

.from "The Healing Promise of Qi"

 

by Roger Jahnke, O.M.D.
You are invited to discover these ancient Chinese healing forms. Move Qi (Chi), the amazing vital life force energy. Gather your breath, move with grace and strength. Calm your mind. Qigong (Chigung) is a wonderful mind/body method for health enhancement that has been practiced for thousands of years. Creative warm-up exercises, breath work, self-care exercises and gentle movement for balance and relaxation are all part of the practice.
Qigong is easy to learn. When practiced regularly, its benefits are profound. Many of the movements are done in a standing posture but can easily be adapted to sitting for those with less physical ability. Anyone with a background in Tai Chi (actually a form of Qigong) or Qigong would benefit from these classes as well as anyone with no knowledge of these arts.  Maxine's classes fill quickly with returning and new students. People of all ages and abilities are welcome!
"Qigong for Good Health" includes a Fall, Winter, and Spring series taught in Lincroft, New Jersey.  Two classes are offered on Tuesdays at 1:00 &  at 2:30 to accommodate the many students interested in practicing Qigong.
All classes include Qigong forms and Qigong essence brought from Maxine's travels in China and her long-time studies with Dr. Roger Jahnke, O.M.D., author of The Healer Within and The Healing Promise of Qi, and Chungliang Al Huang, author of Embrace Tiger, Return to the Mountain and study with many other incredible teachers  including Vicki Dello Joio, Master Robert Peng, Mantak Chia, Solala Towler, Francesco Garripoli, Michael Winn, Ken Cohen, and Mingtong Gu.
Qigong is also offered Thursdays in an ongoing weekly series at The Cancer Support Community in the Maisie Strook building at Monmouth Medical Center in Long Branch. Click "Comments" in the Menu above to read comments from students at the CSC.   Maxine taught there for the first 10 years of the CSC.  Two excellent Qigong teachers took over the weekly classes which are open to anyone with cancer or their caretakers.  To register for free classes at the CSC, click "Classes & Events"above; scroll down.
Save
Save
Save
Save